Instantly protect your Applications
Intelligent and focused security platform that protects your applications from attacks
AppSec Intelligence
Most breaches use the application layer as the attack vector. Templarbit stops these attacks with an application security platform that is intelligent, context aware and easy to deploy
Protecting Applications and APIs
Some of the problems we solve
Cross-site Scripting (XSS)
Injection Attacks
Clickjacking Attacks
Application DDoS
Early Threat Detection
Vuln Scan Detection
Sensitive Data Exposure
Connection Intelligence
AI-powered Security
How we achieve speed and scale
To monitor and defend the complexity of software applications continuously at scale is a challenging task for humans. We leverage artificial intelligence to analyze data and build up a scalable defense. Powering things behind the scenes are a combination of our proprietary data and machine learning models. This for example allows Templarbit to automatically make a decision on policy changes without relying on human input.
Spot unusual behavior that shows signs of a breach in progress
Provide security teams with greater insights into areas that are likely vulnerable
Analyze policy violations and automatically adjust whitelist items without human input
Architected to be precise
Here is how it works
Templarbit can be easily deployed into your application stack:
◦ Add the SDK into your web application or API
◦ Deploy the Data Agent with your data store
◦ Run the Container inside your cluster

or deploy all three options to have complete visibility and control.
Once added to the stack, Templarbit will equip your system with defense capabilities that protect you from a breach. The data passed through your Application Layer will be analyzed on-premise and all signals of malicious behavior will be reported back to you in real-time.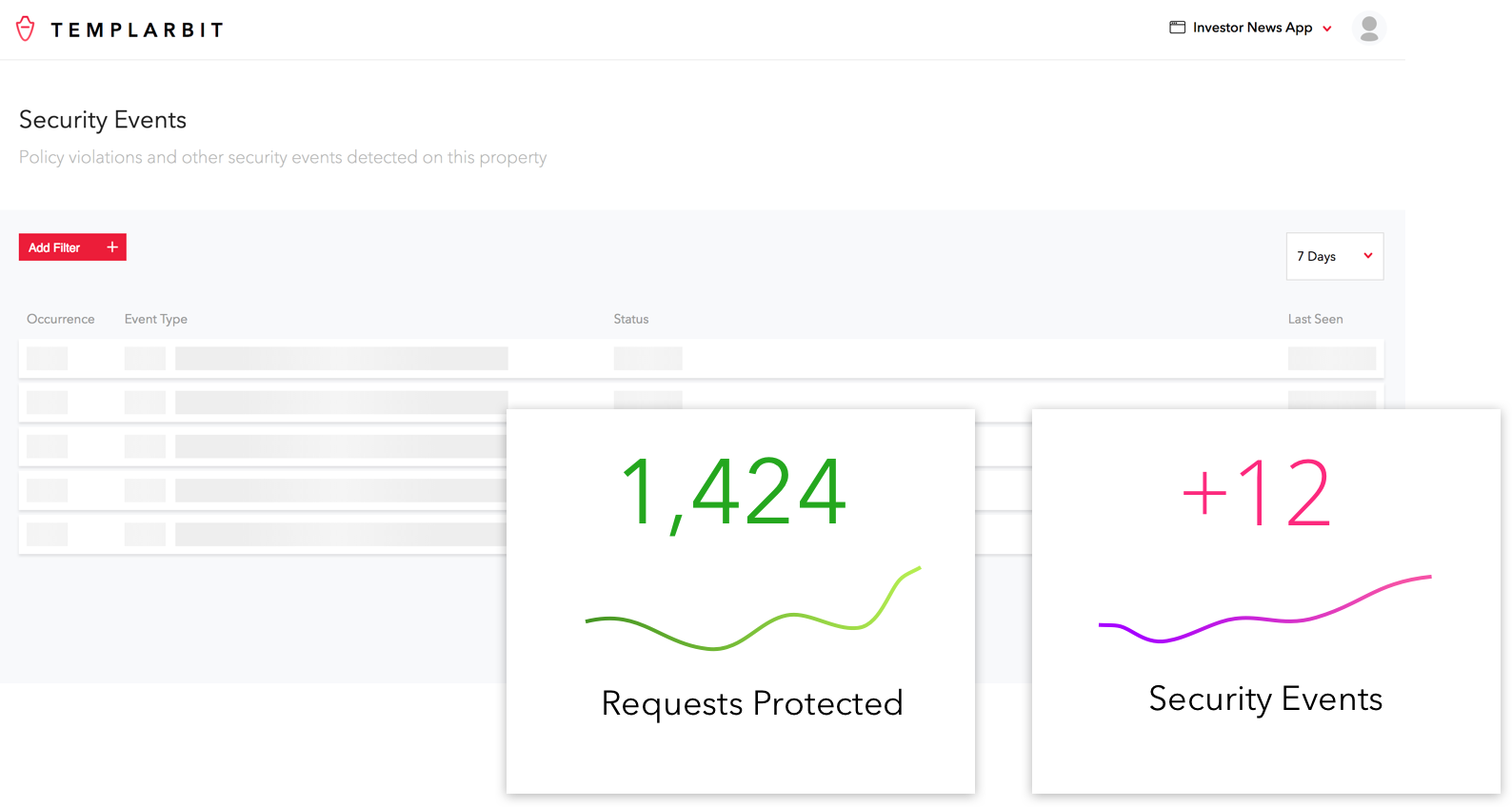 Establish your last line of defense
Templarbit is the most direct way to improve your company's security posture and will help ensure that your team can stay on top of things by surfacing security threats in a format everyone can understand. Harness the power of robust AppSec intelligence and prevent attacks before they affect your business.
Sign up
Ready to get started?
Try Templarbit free for 14 days.
3 min installation · Try all features for 14 days · No credit card required
"Templarbit enables me and my team to simply secure our software products and increase the company's security posture."Read the case study
- Director of Engineering at Fortune 100 Company